Unveiling Strategic Insights through Advanced Brand Tracking
Maintaining a strong brand presence is paramount to success in the dynamic landscape of modern business. Enter brand tracking, a potent methodology that transcends traditional marketing approaches. This comprehensive article delves deep into brand tracking, revealing how it steers the course of brand attitudes, customer perceptions, market positioning, and growth potential over time. From strategic insights to cutting-edge tools and techniques, we unravel the intricate layers of this practice that drive marketing impact, equity, and sales growth.
Understanding Brand Tracking: A Strategic Odyssey
Brand tracking, also known as Brand Guidance, is a powerful longitudinal study that peers into the core of brand dynamics. It unfolds the brand attitudes and awareness narrative, unveiling a mosaic of insights that shape marketing strategies. Tom Ewing, a prominent voice in the field, emphasizes that this practice is not just a study; it's a strategic odyssey. Diverse data sources fuel this journey, each contributing to a multifaceted understanding of the brand's impact on equity and sales.
Brand Tracking -Masterful Methods: Unraveling Insights through Data Fusion
The arsenal of methods employed in tracking is nothing short of awe-inspiring. Surveys, interviews, ad testing, predictive and text analytics, social listening, and recall measurement converge to form a symphony of insights. This harmonious blend of techniques extracts the essence of customer sentiments, market fluctuations, and growth potentials. The result? Experience a panoramic view that converts data into practical insights.
Empowering Tools: Unleashing the Potential of Technology
The evolution of technology has propelled tracking to new heights. Cutting-edge software, such as Voxco Survey Tools, AI, NLP, and Insight News Service, stands as support pillars. These tools transcend boundaries, enabling domestic and global tracking endeavours to thrive. Integrating digital and social data is the compass guiding marketers through the labyrinth of consumer behaviour.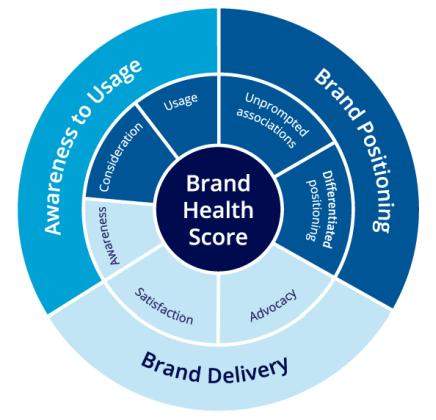 Brand Tracking Key Metrics: Illuminating the Path to Success
In the quest for brand supremacy, metrics emerge as guiding stars. Key metrics encompass various crucial elements: advertising impact, competitive intelligence, conversion performance, consumer insights, and the Net Promoter Score. These metrics aren't just numbers but the beacons illuminating the path toward market positioning, reputation building, and segmentation.
Unravelling the Tapestry: Addressing Crucial Questions
They are tracking weaves through a tapestry of questions that delve into the essence of consumer perceptions. Fame, feelings, recognition, targeting, and consumer behaviour are all pieces of this intricate puzzle. The benefits range from identifying pain points and reputation building to market segmentation and continuous analysis.
Real-time Reinforcements: A Symphony of Data Integration
Tracking embraces a symphony of data integration in a world driven by real-time insights. Continuously streaming data from social transactions, surveys, and digital sources form a web of understanding. This web is intricately woven with digital and social data integration, providing marketers with an augmented reality of consumer behaviour.
The Automation Advantage: Paving the Way for Efficiency
The era of manual data collection has taken a backseat, thanks to the automation advantage. Automation paves the way for cost-efficient data collection, allowing marketers to divert their focus toward strategic analysis and decision-making. The synergy between technology and human expertise heralds a new era of efficiency.
Navigating the Landscape: Resources and Case Studies
Embarking on the journey necessitates guidance. Resources such as blog articles, case studies, and webinars serve as compasses, leading marketers through the complexities. Research Now & Carat's spotlight on cross-media campaign success for significant brands and Founders Brewing Co.'s agile strategy stand as testaments to the efficacy of this approach.
A Glimpse into the Future: Webinars and Relevance
 A webinar discusses the importance of future relevance in brand success. This glimpse into the horizon underscores the ever-evolving nature of brand dynamics and the imperative of adapting to changing tides.
In conclusion, tracking emerges as a strategic beacon that guides marketers through the intricate maze of brand dynamics. 
From its diverse methods to cutting-edge tools, key metrics, and real-time insights, this practice empowers marketers to decode consumer perceptions, shape strategies, and foster growth. With a keen eye on the future and the synergy of technology and human ingenuity, tracking charts a course toward unparalleled success.
You May Also Like To Read: